The Proaxion Product
Difference is
Simplicity
An Affordable Solution to Significantly
Improve Your Machine Health
We have created a suite of high quality, cutting edge products that enable maintenance professionals to drive machine health outcomes through the ProAxion integrated solution. Our products are designed as an integral part of the ProAxion solution to afford customers a scalable solution that is easy to install, with minimal maintenance demands, and autonomous communications. These are tools that help and do not burden your maintenance team.
The ProAxion Difference consists of an integrated suite of products that are simply more customer friendly than most other options. The products are developed to accommodate a wide spectrum of machine applications across diverse industries. They include many technical advantages crucial to maximizing ROI, like our Tactix sensor battery life and temperature range, self-association and self-healing across our communications platform, and both public and private network options to make life easy for your IT team. Our objective is to help your team focus on your process with simple yet effective PdM tools.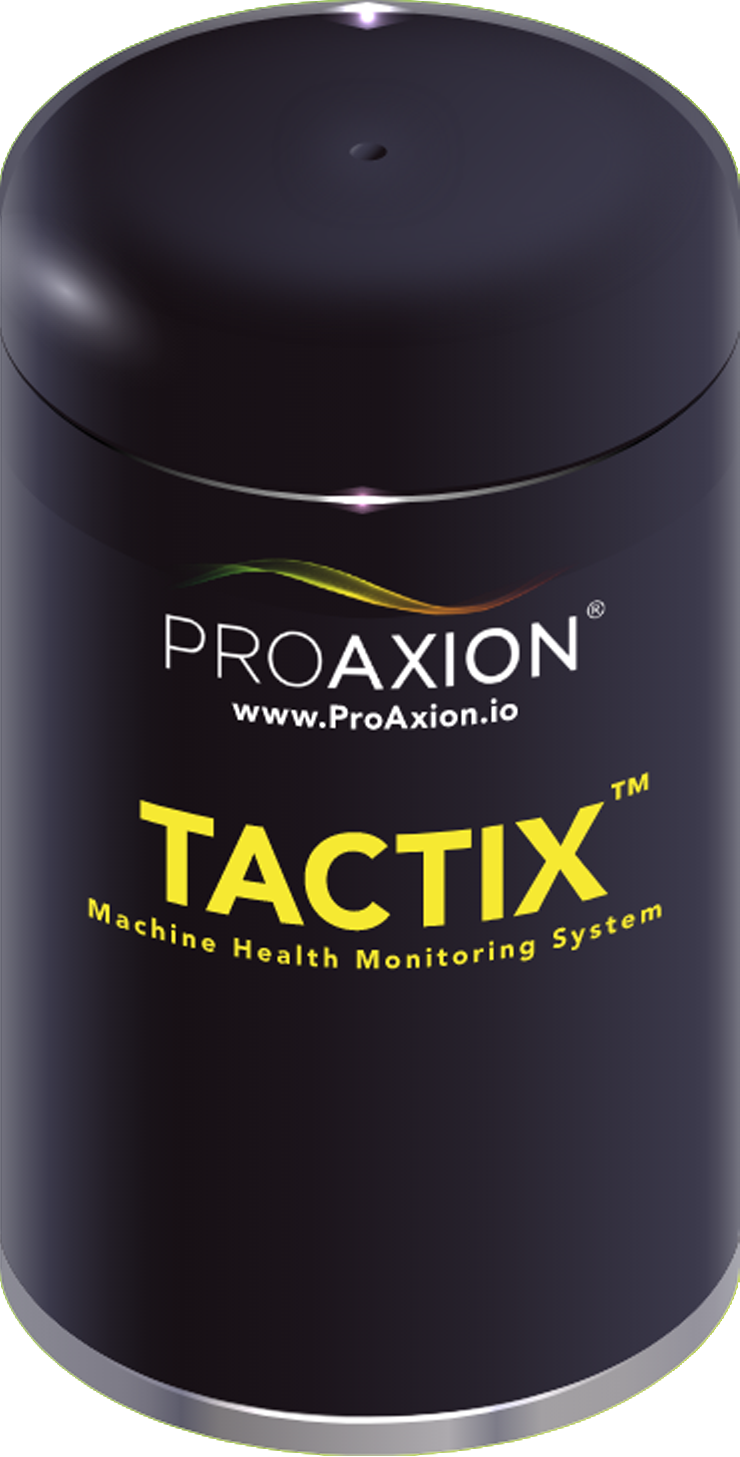 Tactix® Sensor
The TACTIX® sensor is simple to install on your fixed and variable speed rotating equipment like motors, pumps, compressors, and fans to gather critical operational information on your most valuable assets. With leading battery life, this three-axis sensor provides a full range of monitoring and diagnostics insights. The sensor will provide you with insight into changing machine operation as well as the ability to understand why, so you can plan accordingly. Designed and made in America, the TACTIX® sensor is unsurpassed in its quality, ease of use, and effectiveness, boasting an estimated 7-10 year battery life.
+ Product Summary
- Product Summary
Industry leading 7+ year battery life

Rugged housing IP68

Specifically designed for rotating machines

3 axis acceleration plus surface temperature: 1600 hz FMax per axis. 400-12,800 spectral lines
Surface temperatures up to 257F (125C)

Full data measurement taken up to every 5 minutes

Install and setup takes less than 5 minutes

Bluetooth wireless low energy 2.5 GHz
Proaxion Gateway
Our Gateway provides seamless integration from the plant floor to your PC, tablet, or phone. Data integrity is critical to delivering real time, accurate solutions and the Gateway ensures an effective flow from one to fifty machines. We've designed the Gateway to work within your enterprise communication platform or independently where cybersecurity or current capability dictate separate architecture.
+ Product Summary
- Product Summary
True plug and play with no pairing or setup required

Comes out of the box with cellular enabled

Communicates up to 30 sensors within 50-150 ft range
Onboard WIFI and ethernet cable if local network connection is desired (not necessary)

Uses latest security protocols (HTTPS/TLS 1.2)

High connectivity reliability >95%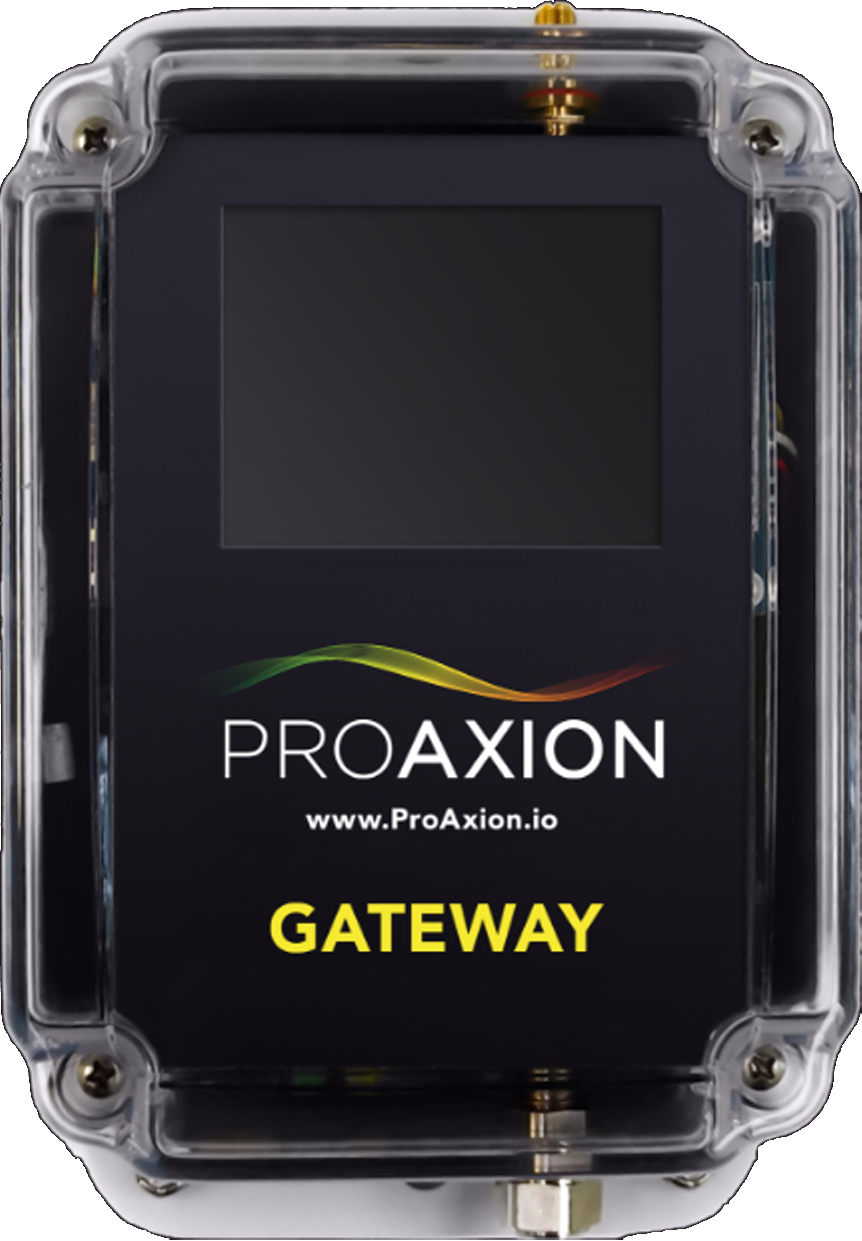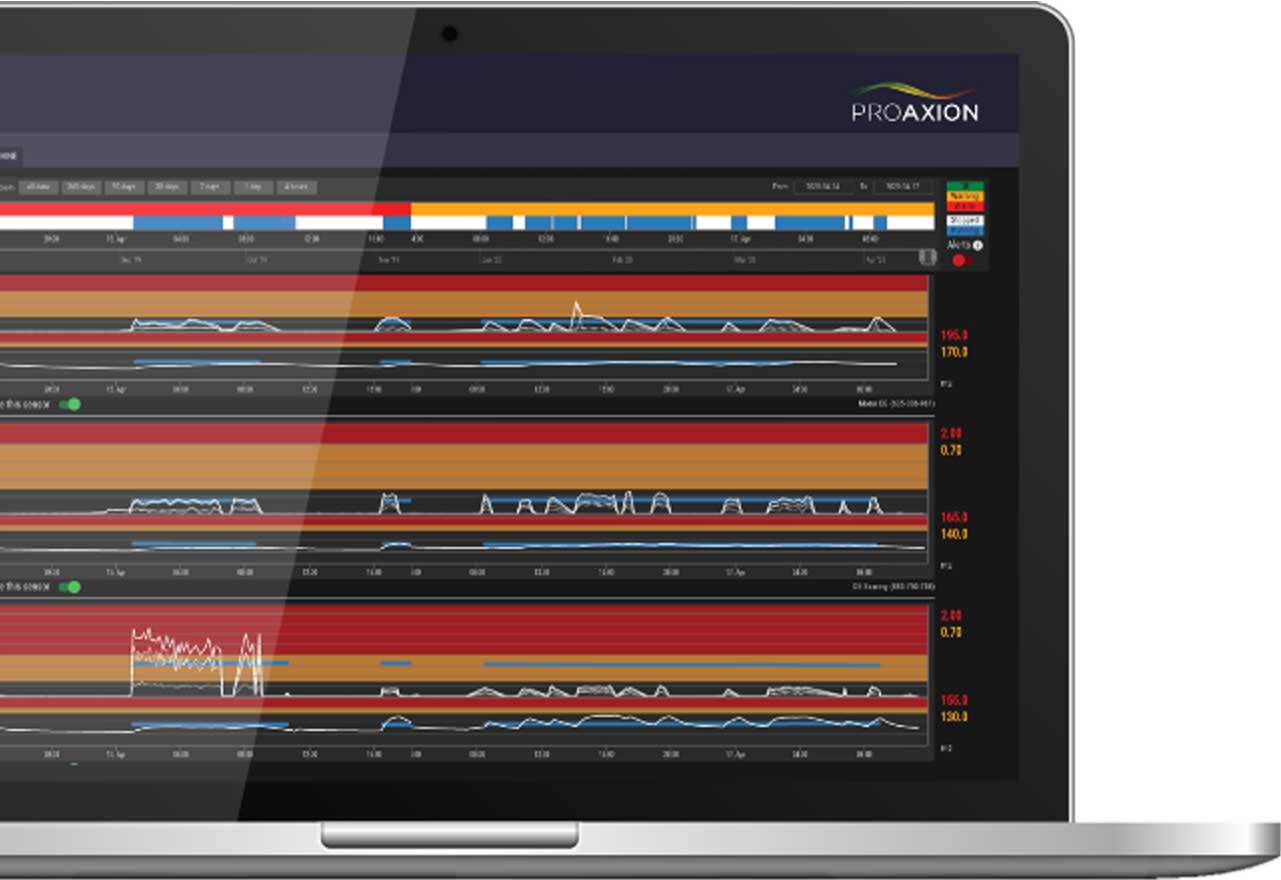 Proaxion Cloud Software
Imagine collecting a rich stream of data on an ongoing basis, sorted into an easy to review dashboard with key insight reports, and then effectively collaborating with others, including ProAxion technical support, to address machine health issues. That is exactly what the ProAxion Cloud Software program is all about. It's all about driving outcomes through effective predictive maintenance solutions designed for maintenance practitioners and not theorists. ProAxion has designed a program to effortlessly assemble data, perform diagnostics, and present insights and findings in an actionable, clear fashion. Our objective is to help your team effectively meet production goals and maximize the value of your machine assets.
+ Product Summary
- Product Summary
User Interface consists of web browser with secure login

Supported browsers include Chrome, Mozilla Firefox and Internet Explorer

Latest security protocols – HTTPS/TLS 2.2

Data storage and download with unlimited .xls & cvs. formats
Supported devices include PC/Desktop, tablet and phone

User alerts that distribute warnings and alarm thresholds

Alert Notification through SMS text and email